Giotto and Tuscany
Giotto di Bondone is one of the most influential artists in the history of art and of Florence, who made good use of his unique, revolutionized painting style.
Giotto di Bondone is one of the most influential artists in the history of art who made good use of his unique, revolutionized painting style. He was seen as a model by many Renaissance artists and was greatly valued by his contemporaries who described him as "A super-skilled painter of the 1200s."  Giotto was praised for being the Renaissance forerunner who pioneered life-like drawings and the artist who could draw a faultless "O" without using a compass.
Interesting Things about Giotto's Early Life
According to legend, Giotto was discovered by Cimabue, when he bumped into him drawing one of his sheep on a rock; he was a humble shepherd. The picture looked so real that Cimabue confronted the young artist's family asking to recruit him as a trainee. Other legends say that Giotto once painted a fly so realistically on one of the master's art pieces that Cimabue tried to brush it off thinking it was real.
His Life
Giotto was born around 1266 in Mugello near Florence in a Tuscan farmhouse. He was taken by Cimabue who spotted his talent and went with him to Florence (1272), close to Santa Maria Novella; they later traveled to Rome and Assisi. They worked between Rome and Assisi (1200-1300) where he progressed to being a highly appreciated artist regularly commissioned to fresco cathedrals such as Scrovegni Chapel, Bardi Chapel, and Peruzzi Chapel.
The artist later traveled to Naples to honor an invitation by the King of Anjou where he came up with Baroncelli Polyptic. He later traveled back to Florence where he became a "Florentine Opera del Duomo" master builder.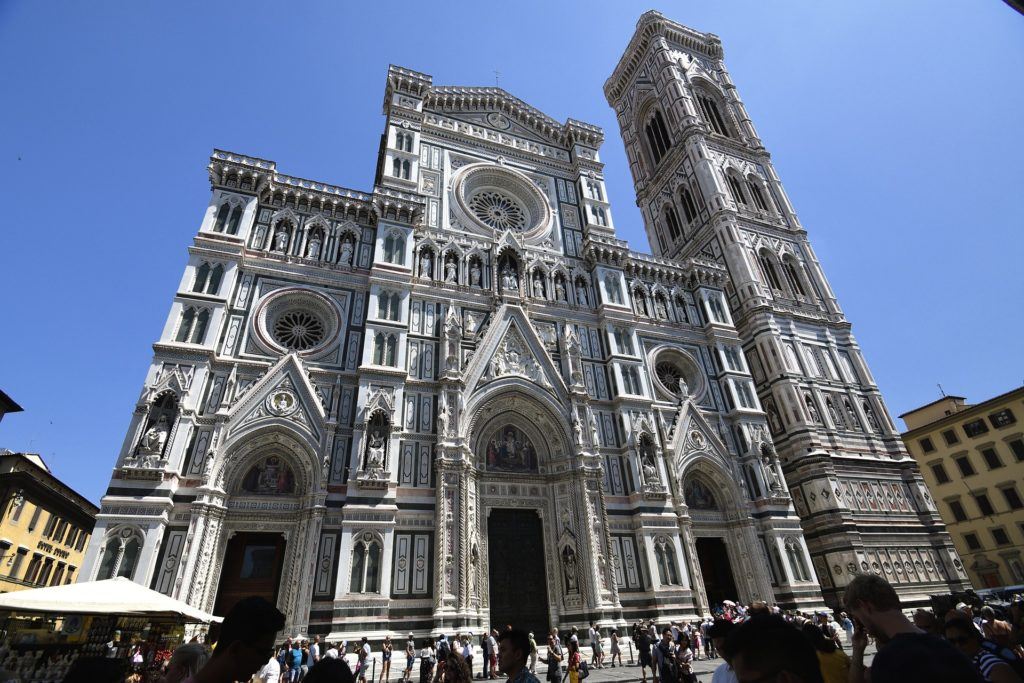 Giotto's most Monumental Art Pieces
The Badia Polyptych : The masterpiece is made up of five pieces that have triangular pieces. The pinnacles depict figures of Madonna and Child, John the Evangelist, saints Nicholas from Bari, Peter and, Benedict. The Badia Polyptych is conserved in "the Museum of the Opera di Santa Croce." The piece survived floods in November 1966 and is exhibited in the Uffizi Gallery.
"Madonna di San Giorgio alla Costa" : The painting is named after the church that housed it until it was transferred to the "Diocesan Museum of Santo Stefano al Ponte." The piece of art depicts Giotto's youthful techniques and has influences from Assisi's oldest frescos, "Santa Maria Novella Crucifix," and the pieces of Madonna and Child (Borgo San Lorenzo).
Santa Maria Novella's Crucifix: The Crucifix was laid in Santa Maria Novella's central nave after the long restoration program that was carried out at 'Opificio delle Pietre Dure." It displays Giotto's typical features, which when compared to other crucifixes show that it dates back to the master painter's youth.
Santa Croce Frescoes : As Giotto finalized his artistic career, he painted a series of paintings in Santa Croce Church in Florence. The frescoes were held in Bardi Chapel and Peruzzi Chapels (he depicted St. John the Evangelist's and St. John the Baptist's lives in the Peruzzi Chapel and St. Francis's life in the Bardi Chapel).
Giotto has influenced most of the Italian artistic tradition through his styles that have been copied by many other artists.  Most of his works are displayed in Florentine Churches such as Assisi Basilica.
#EXPLOREITALY
Share your journey to Italy with us using #exploreitaly